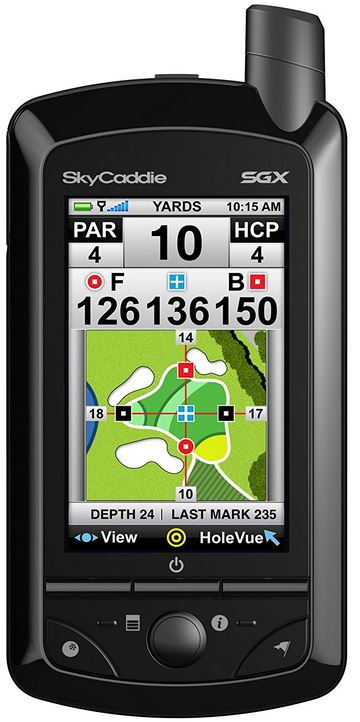 The SkyCaddie SGX Golf GPS is a state of the art golf GPS that is jam-packed with a wide variety of highly advanced features.
The SGX looks very stylish and features dual navigation, dazzling color display and Interactive HoleVue with Zoom and TruePoint. In addition, the SGX can hold up to 30000 pre-loaded courses in its memory and each course is ground verified to ensure maximum accuracy.
One of the things that set this unit apart is its sleek and durable interface and 3-inch large TFT-LCD screen that offer radiant images even in broad daylight. The SkyCaddie also offers dual navigation, which allows golfers to operate the device with one hand easily.
SkyCaddie SGX Golf GPS Features
Transflective TFT-LCD screen that offers bright images in direct sunlight
Can store up to 30000 ground verified golf courses in its database
Omni-directional, high-performance GPS antenna
Dual Navigation
Durable and sleek design with a large 3-inch high-resolution screen
High-performance GPS engine with TruePoint GPS Precision Positioning Technology
Pros
One of the things we liked about the SkyCaddie SGX Golf GPS is its wide course selection. The device comes pre-loaded with 30000 ready to play course maps and you can load up to 50 full maps with the SkyCaddie membership plan.
The SkyCaddie SGX can record thousands of different points on a single golf course. It maps and records distances to carry, lay ups and hazards automatically as you progress down the course.
SkyCaddie creates a detailed high-precision graphics library for every hole using ground verified data. The HoleVue feature allows you to play with the fewest number of strokes by providing the distance to any point on a hole.
We also loved the SGX's sleek and durable design. Furthermore, it also features a large 3-inch high-resolution screen that is transflective which allows for crystal clear images even in the brightest sunlight.
Moreover, the device has a dual navigation functionality that makes it operable with one hand which is very convenient when you're on the course. You can easily operate the device by using the directional buttons and toggle stick which allow you to navigate the unit without obstructing the screen.
The TruePoint GPS Precision Positioning Technology offers ultra-fast satellite connection and accuracy. Furthermore, the Omni-Directional Performance GPS Antenna allows the device to look for multiple connections at a time.
The SkyCaddie SGX Golf GPS features IntelliGreen technology which displays the shape of the green and automatically rotates it depending on your angle of approach. The device also features the newly patented IntelliGreen Pro technology that displays the distance to major false fronts, green contours and front and back distances among other things.
Cons
Despite its impressive set of features and amazing accuracy, the SkyCaddie SGX Golf GPS does have a few shortcomings. One of the most common complaints amongst users was that they had difficulties synchronizing the unit with Windows.
After your purchase, you are required to register your unit using your computer. Many users have complained about compatibility issues with Windows 7, but no problems have been reported with Windows XP.
Some people have complained about units freezing during setup, but such occurrences have been few and far between. Also, if you are used to touchscreen devices, you may have a hard time getting used to the sensitivity of the joystick.
Besides these few factors, there isn't much bad we could say about the SkyCaddie SGX.
Final Verdict – Should You Purchase The SkyCaddie SGX Golf GPS?
Despite its few shortcomings, you won't find many golf GPS units on the market that can match the SkyCaddie SGX Golf GPS in terms of features for such a low price.
And one of the things that separate SkyCaddie from other companies is that they are the only ones who hire real people to track each and every golf course in their database. This ensures that the readings are not solely based on GPS information, but on ground verified data.
In addition to helping you on the course, the SGX allows you to synchronize and store your game data into a personal performance locker, learn about courses, track key statistics, find a PGA Professional and share your game experiences.
All in all, the SkyCaddie SGX is a must have for anybody who is serious about their game. So, if you are looking for a precise, affordable and highly advanced golf GPS, you should definitely give the SGX a closer look.