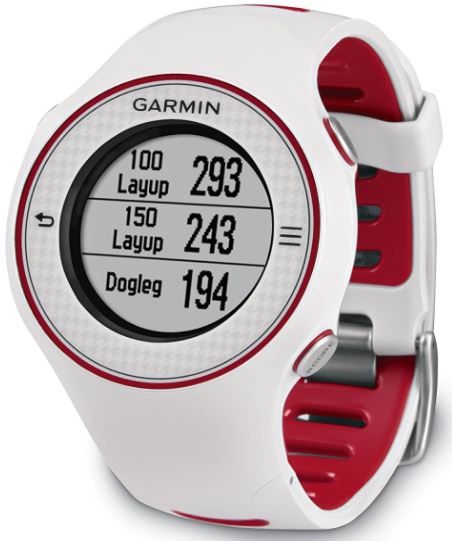 In this review we are going to have a look at another great golf GPS watch, the Garmin Approach S3 GPS Golf Watch. It comes with a lot of fantastic features that you can use to help you master the golf course.
Garmin Approach S3 GPS Golf Watch Features:
Water resistant, GPS golf watch with 1-inch monochrome LCD touchscreen
Preloaded with over 29,500 worldwide courses
Course preview (see detailed, hole-by-hole preview)
Stat tracking keeps track of fairways hit, greens in regulation and putts per round
Touch-targeting to see distance to any point
Garmin Approach S3 GPS Golf Watch Specifications:
Dimensions: 2.7 inches x 0.6 inches x 1.8 inches
Color: Black
Requires a CR2 rechargeable lithium-ion battery which is included
Display Size: 1 inches
Display Resolution: 128 x 128
Warranty: 1 year limited
Battery Life: 8 hours
Pros
rugged
waterproof
no subscriptions and fees
This watch is more reliable and durable than most GPS watches. It is very rugged and waterproof. It has some really great features. If you are looking to save money then this is a really good way of doing it because it is one of the earlier models but still has enough features to make it well worth your time and we think it is one of the best golf gps watches for the money.

Garmin approach s4 course list
Packed with many Preloaded Courses at no additional cost
It comes preloaded with more than 27,000 courses from around the world without the need for subscriptions or additional fees. Also when Garmin releases more courses, all customers will be able to download these for free. There are no annual fees or subscriptions to pay.
It will also find that this displays it yardages to the front, back and the middle of the greens and it gives you a really good high resolution touchscreen display.
You will also get other features such as the Greenview with manual ping positioning and the distances to the doglegs and the layups.
You will also get customizable yardage point and printable digital scorecard if you are playing stroke play or stable ford.
You will also be able to use the touchscreen feature to move the pin to the day's location and this will be helpful on par threes where you will be able to dial in the distance you need and it will help judge the shot.
You will also get full control over the distances and you will be able to customize them as you get a course better if you need to and it will also tell you where the water hazards or the bunkers are.
The other great thing about this watch is it will allow you to keep your score and gives you digital scorecards for individual place and you will be able to set this up no matter which version of golf you are playing.
Garmin approach s3 vs s4
Garmin approach s3 Customer Reviews
The customer reviews for this watch are very good and you will see that it has a lot of four and five star reviews. The only downside that we could see is that the charge time could be longer with a couple people saying that the battery did not last particular long. There was also another review said that it is quite different to the S1 which was a previous version but we think you will be very impressed and for the price you cannot go wrong!
Garmin approach s3 best price
At the moment you can pick up the Garmin Approach S3 GPS Golf Watch from Amazon.com for under $250 and that will give you a steep discount from the suggested retail price!