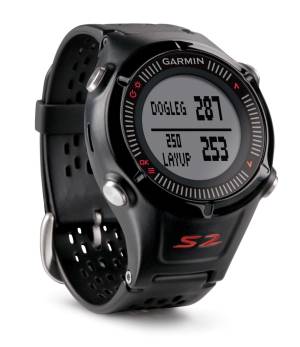 Are you a golfer looking for an accurate golf GPS watch that not only provides basic functionality but also looks great and costs under $150? Then Garmin's new Approach S2 GPS watch may be right up your alley. With stunning good looks, a data-bank of nearly 38,000 worldwide courses, and a built-in scorecard, the S2 is definitely a golfer's best friend. Below we provide a detailed review of this watch to help you decide if it fits your golfing and style needs.
Garmin Approach S2 GPS Golf Watch
The S2 is one of the sleekest, most accurate golf watches available today. It features a hyper-sensitive GPS receiver that is capable of giving dead-on yardage numbers of any green, front-to-back. On top of basic yardage tracking this watch is also capable of recording your personal shot distances and even telling you how far you've walked thanks to a built-in odometer.
Pre-Programmed Courses
The Garmin Approach S2 comes loaded with yard statistics for almost 38,000 courses. This means you've got access to distance information for pretty much any course you visit whether it's in your hometown or halfway across the globe.
Updates are made to these course overviews a few times each year. All S2 watches come with free updates, so you never have to worry about paying a fee to have the latest, most precise stats. In order to update your watch all you need to do is install the Garmin Express software on your PC, connect your watch, and follow the on-screen instructions to download and process updates.
Yardage Capabilities
The most important features of the Approach S2 Golf GPS watch are obviously the yardage tracking abilities. This watch is able to measure precise distances for any shot, from anywhere on the course. Key capabilities include:
Yardage Totals to Front, Middle, Back of Greens
Yardage Totals to Layups and Doglegs
Scoreboard
Want to track your personal progress on any course you visit? The S2 has a solution for that, too. Using the built-in digital scoreboard you can record every single stroke for every hole to keep tabs on whether or not you're on par. This information is stored and displayed in an easy to read format for ease of use.
Customer Reviews
Thinking about purchasing this golf watch? Hold on just a minute before you whip out your wallet and start pounding out your credit card number to buy it. Before you buy ANYTHING you should always scan through reviews left by people that have actually used the product.
The good news is, most people agree that the Garmin Approach S2 is an excellent golf GPS watch. Many users noted that the distances are extremely accurate, the device is very easy to use, and that the unit is ready to go straight out of the box.
Pros:
Easy to Configure and Use
Looks Good and Fits Comfortably
Yardage Information is Highly Precise
Handy Additional Features
Cons:
Not Waterproof
Slightly Lower-Than-Average Battery Life
Overall, this is one of the better golf watches on the market and it's definitely worth getting if you're looking for a functional distance tracker that comes with a few bonus features that are worth having, too.
Technical Specifications
Watch Display is Approximately 1 Inch in Diameter
Resolution is 64 x 32 Pixels
Monochrome LCD Display
Total Weight of 1.8 oz (Includes Battery Weight)
Rechargeable Lithium-Ion Battery
8 Hour Battery Life with GPS Active, 3 Weeks Lifetime in Watch Mode
This watch is NOT waterproof. It is water resistant for up to 10 meters (pressure resistance only). In other words, don't expect to go swimming with this watch strapped to your wrist. At best it can survive light rain and the occasional splash of liquid, but nothing more.
Color Options
Garmin's Approach S2 Golf Watch is designed to look as good as it performs. The watch and band come in various colors including:
White / Gray
Black / Red
Purple / White
Black / Green
Blue / Black
Functioning Watch
As one would expect, the Garmin Approach S2 also serves as a functional watch. Who knew, right?!? The standard watch aspect of the device isn't anything special, though. It's just a simple, portable clock for keeping track of time. After all, you've got to make sure you make your next meeting or get home for dinner on time.