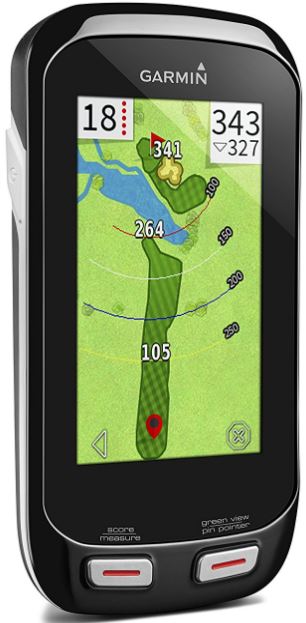 When it comes to GPS devices, Garmin is definitely a force to be reckoned with. Recently, the Swiss company introduced a new type of GPS device made especially for golfers to the great pleasure of golf lovers everywhere.
This device features a nice and sleek design with a two button interface and a 2.6 inch user friendly touchscreen display. In addition, the device comes preloaded with 25 000 worldwide courses.
This unit comes with an impressive set of features that should please even the most advanced golf player. Let's take a closer at some of the features this GPS from Garmin has to offer:
Garmin Approach G6 Handheld Touchscreen Golf Course GPS Features:
40,000+ preloaded maps straight out of the box
2.6 inch touchscreen display
Rechargeable battery lasting up to 15 hours
Sunlight readable display
Can calculate the distance between the player and the target
100% waterproof
Pros
1. One of the first things you'll notice once you get your hands on the Garmin Approach G6 Handheld Touchscreen Golf Course GPS is how compact it is. It can easily fit in your pockets with no discomfort at all which is great for people who like to spend hours on the golf course.
2. Another great thing about this device is that it comes preloaded with tons of maps, 25 000 to be exact, which is quite impressive for a device in its category. And as if 25 000 maps weren't enough, you can also download a wide variety of extra maps in case you need it.
3. Another thing worth mentioning about the Garmin Approach G6 is the quality of the display. The interface is very easy to navigate and you'll be able to pick it up in seconds.
4. The fact that it can be used without taking your gloves off makes it even more practical. It is big enough to catch all the details, yet it is still small enough to fit in your pocket. In addition, Garmin made sure that the display stays visible even in broad daylight.
5. One of the greatest things about this device is the stability of connection. It rarely gets disconnected from the satellite even in rough conditions.
6. The ability to calculate the target distance is a feature that many golfers will fall in love with. This feature is especially useful for beginners who are still struggling with distance and can really help when choosing the proper club for a particular shot.
Cons
1. One of the things some people might not like about the Garmin Approach G6 is the look of the graphics. Some may feel that the graphics look too cartoonish and may prefer to opt for a device that offers more realistic graphics. However, the graphics are still very detailed and give you a great sense of distance and location.
2. Another thing with this device is the speed of connection. Even though the connection is very reliable, the time needed for the device to connect to the GPS network can be very long at times. However, your location can make a big difference in connection speeds.
3. One more issue we had with this device is the battery life. Even though Garmin states that the battery can last for up to 15 hours, this time can be significantly shortened if you leave the device open for long periods of time.
Besides these few factors, there isn't much bad we could say about this device.
Final Verdict on the Garmin Approach G6
Even though it has its few drawbacks, The Garmin Approach G6 Handheld Touchscreen Golf Course GPS is definitely recommended. It is also very reasonably priced when compared with similar units.
Garmin is a well respected brand in the industry and this device is a definite testament to their years of expertise. And golfers will be happy to know that there are no annual fees when using this GPS, which is a definite plus.
If we can overlook the cartoonish maps, this GPS device can be very useful to players who want to perfect their game. Its sleek and compact design coupled with its massive map selection and impressive set of features makes this Golf Course GPS from Garmin a top contender in its category.
Garmin Approach G6 Handheld Touchscreen Golf Course GPS Customer Reviews
The customer reviews for handheld GPS unit are very good. It has an average score of 4 out of 5 stars based on over 500 customer reviews.
Garmin Approach G6 Handheld Touchscreen Golf Course GPS Best Price
At the moment you can buy the Garmin Approach G6 Handheld Touchscreen Golf Course GPS from Amazon.com for under $200 and you can also get free shipping so it is a really good deal.
Garmin Approach G6 Manual
You can get the manual for the Garmin Approach G6 Handheld Touchscreen Golf Course GPS by visiting this site: https://support.garmin.com/support/manuals/manuals.htm?partNo=010-01036-00&language=en&country=US
Garmin Approach G6 Course List
You can see the golf courses that are already uploaded to the Garmin Approach G6 Handheld Touchscreen Golf Course GPS by visiting this website: https://www.garmin.com/en-US/golf-courses/overview/