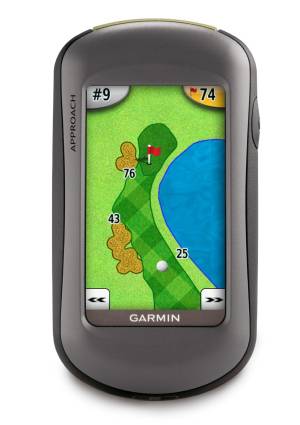 If you are a golfer that remains on the golf course even after it starts raining because you just have to play out the rest of your game, then you should definitely purchase the garmin approach g5 waterproof touchscreen golf gps. Get your game on with this powerful golf course GPS from Garmin that gives you the confidence to pick the right club every time, knowing exactly how the course appears before you get there.
Important features of the garmin approach g5 waterproof touchscreen golf gps:
• Rugged, waterproof golf GPS unit
• 3-inch sunlight-readable color touchsreen display
• Preloaded U.S. course maps, including fairways, hazards, and greens
• Shows all the holes including the distance to them, the hazards, bunkers, trees etc
• No annual fee; No setup or subscription fees; new maps available for download from Garmin.com
• Measure shot distance with highly sensitive readings to eliminate guesswork from your game
• Touch target display. Measure the distance to the exact point you want to get to
• Use a digital scorecard to keep score for four people
• Save and review the scores on your computer at home
• Uses AA rechargeable batteries that last 2 – 3 rounds
Specifications
Physical dimensions: 2.3″ x 4.5″ x 1.4″ (5.8 x 11.4 x 3.5 cm)
Display size, WxH: 1.5″W x 2.6″H (3.8 x 6.3 cm); 3″ diag (7.6 cm)
Display resolution, WxH: 240 x 400 pixels
Display type: Transflective color TFT touchscreen
Weight: 6.8 oz (192.7 g) with batteries
Battery: 2 AA batteries (not included); NiMH or Lithium recommended
Battery life: Up to 15 hours (using NiMH or Lithium batteries)
Water rating: IPX7 (1 meter)
Interface: USB
This golfer GPS unit weighs in at a low 6.8 ounces and is slim enough to fit in your pocket. It is waterproof and can withstand an accidental immersion or game play throughout a rainstorm.
Take the guesswork out of your next game of golf with the garmin approach g5 waterproof touchscreen golf gps. You'll always know the correct yardage and the outlay of the course ahead because the satellites are acquired almost instantly.
If you want to take your golf game to the next level and shave some strokes off of your score, this GPS from Garmin can help you get there. You'll be able to target anywhere on the fairway and see any obstacles in your path.
The GPS is preloaded with more than 10,000 different courses. While not every course is included, if you do have a golf course that you frequent regularly you can contact Garmin and ask them to add it. It's as simple as that!
This GPS system is ready to use straight out of the box. You can take it with you right to the golf course and start playing immediately. It is easy to handle and lives up to the Garmin reputation for being a leader in the GPS industry. If you want a GPS that you can use in inclimate conditions, is simple to use and has no subscription fees, the garmin approach g5 waterproof touchscreen golf gps delivers it all.
The garmin approach g5 waterproof touchscreen golf gps is easy to use, accurate, and contains all of the courses that you will want to play on. You can even move the flag stick to the correct location on the green and this Garmin GPS unit will then recompute the new yardage to the stick.