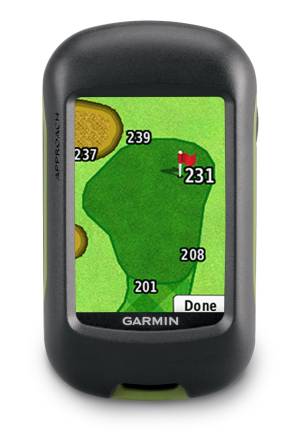 The Garmin Approach G3 Waterproof Touchscreen Golf GPS is another innovative product released by Garmin. It is just as durable and reliable as previous Garmin GPS units. This handheld golf course GPS system is waterproof and rugged and the screen display is large and easy-to-read. This device is very readable in sunlight.
Important Features Of The Garmin Approach G3 Waterproof Touchscreen Golf GPS
• Rugged and waterproof design
• No setup fees or subscriptions
• Touch-targeting (touch target on display to see the distance to any point)
• Manual pin positioning (tap and drag flag on green for precise yardage)
• Green View allows you to manually move pin to days' pin location Just tap the flag on the map to zoom in on the green — then you can drag the flag to position it where you see it, giving you more accurate yardage.
• Measure the distances for your next shot
• Digital scorecard helps you keep score for up to four players
• Computer scorecard review (save and review scores on computer)
• Detailed golf course maps will provide you with the precise yardage to the green, hazards and fairways from any point on the course
• As you move about the course, the unit will continuously update your position and show you the distance to each target
• Review and save your scores on your computer after the game
• More courses continually added and updated
• The Box contains: Approach G3, Belt clip, USB cable, Owner's manual
• Price: Under $150
Specifications
Physical dimensions: 2.2″ x 3.9″ x 1.3″ (5.5 x 10.0 x 3.3 cm)
Display size, WxH: 1.4″ x 2.2″ (3.6 x 5.5 cm); 2.6″ diag (6.6 cm)
Display resolution, WxH: 160 x 240 pixels
Display type: Transflective color TFT touchscreen
Weight: 5.3 oz (148.8 g) with batteries
Battery: 2 AA batteries (not included); NiMH or Lithium recommended
Battery life: Up to 15 hours (using NiMH or Lithium batteries)
Water rating: IPX7 (1 meter)
Interface: USB
The unit comes preloaded with more than 10,000 golf courses in the United States and is currently expanding into European and Canadian courses. If you don't see one of the courses you frequent on the website there is a toll-free number you can call to request that your course be added. It usually takes less than a week to see your course suggestion added to the website.
The Approach G3 uses a GPS receiver that is highly sensitive and measures the yardage to the green, hazards and fairways. You'll be able to preview detailed coverage of every hole and find out your yardage automatically. The pin location adjustment works really well. The unit pinpoints and updates your position as you move along the course and you'll never have to refresh the screen since this is done automatically. You can also use the digital scorecard for four players at a time.
This handy little unit only weighs 12.8 ounces and can fit in your pocket. The Garmin Approach G3 Waterproof Touchscreen Golf GPS has a touchscreen interface and a transflective quality to block any sunshine glare. The Garmin G3 is a comfortable fit for any hand with its design that is slightly curved.
This garment GPS golf unit is waterproof so you never have to end your game or stop using it when the rain comes. It runs on two AA batteries that can last up to 15 hours or more. You may want to use rechargeable batteries and have extras on hand while you are playing so that the game can carry on with the GPS unit on hand.
The Garmin Approach G3 Waterproof Touchscreen Golf GPS conforms to the rules set out by the USGA/R&A, which makes it perfect for recreational or professional use. This GPS system works well right out of the box and you get a large selection of preloaded courses without having to subscribe or download course information. It gives very accurate course information for courses in places such as Northern California and Las Vegas. I also got a long battery life with this device. Unfortunately, this system does not have a battery life indicator and does not automatically turn off after a period of inactivity.