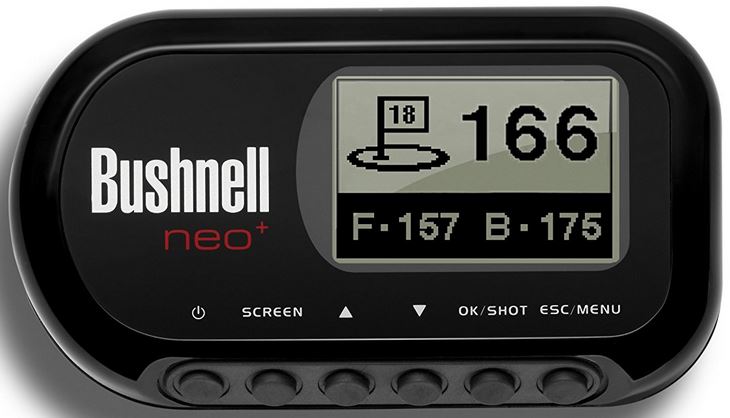 The Bushnell Neo+ Golf GPS Rangefinder is a very compact and easy to use golf GPS unit that comes with a wide variety of interesting features straight out of the box.
The device features 25000 pre-loaded North American golf courses. Its GPS function offers accurate and quick distance measurements from the back, center and front of the green in addition to key hazards signals.
The device also offers immediate course recognition. Furthermore, it is very easy to navigate thanks to its 100-percent larger text menu, auto-hole advance and high screen resolution.
Bushnell Neo+ Golf GPS Rangefinder Product Features:
Instant course recognition
Shot distance calculator
Provides key hazards signals
Low button press
Rainproof construction
25000 pre-loaded North American courses
Offers distance to the front, center and back of the green
Offers up to 4 custom points per hole
Pros
One of the great things about the Neo+ is that it comes loaded with 25000 North American golf courses, which allows you to use the device without having to download anything, which is pretty common with other golf GPS devices. This makes this unit very convenient and easy to use, as there is no setup required to start using the device. Furthermore, its ability to recognize golf courses instantly makes it very practical when you're on a new course.
One more thing we liked about this device is its long battery life. The battery can last up to 16 hours which allows you to play for long hours without recharging. Furthermore, the Neo+ adheres to USGA rules and features a SiRFstar III GPS chip.
The device is very easy to carry around while you're on the golf course and only weighs one pound. Furthermore, it fits easily in your pockets thank to its ultra compact size making it very comfortable and easy to store.
Another great thing about this device is how user friendly it was. The Bushnell Neo+ Golf GPS Rangefinder's simple interface makes it very easy to use straight out of the box.
It also features a large text menu and high-resolution screen, which offers easy navigation. The device also provides you with distance to the back, center and front of the green and notifies you of key hazard areas. Furthermore, the device offers up to 4 custom points per hole and a shot distance calculator.
You can use the Neo+ without any need for additional hardware or software. The only requirement is an internet connection and a computer to register the device within 45 days after your purchase. To register the device, you need a computer that operates on Windows Vista, Windows 7, Windows 2000, Windows XP, Windows 98 compatible, Windows Me, and Mac OS X, Version 10.4 or later.
Cons
Even though it is a great device, the Bushnell Neo+ Golf GPS Rangefinder does have a few shortcomings. First, it has a small interface, which makes viewing larger areas a bit difficult.
Furthermore, its backlight is not very powerful which makes the screen a bit difficult to read in direct sunlight. This is probably the biggest issue with this unit mainly because golf is played during sunny days in most occasions.
Another issue we had with the Neo+ is the slow initialization after you turn on the unit. The device usually takes about five minutes to access the satellite network which could be a problem for some people.
Another negative aspect of the Neo+ is the accuracy of the pre-reloaded maps. Some users have complained about inaccuracies on some of the pre-loaded maps. However, you can rectify the issues by customizing the key points of the map.
Final Verdict – Should You Buy The Bushnell Neo+ Golf GPS Rangefinder?
Despite its few shortcomings, the Bushnell Neo+ Golf GPS Rangefinder remains one of the most efficient and popular devices on the market.
Only a handful of golf GPS units on the market can boast of offering 25000 pre-loaded golf courses, rainproof construction, no membership fees and instant course recognition for such a low price. Furthermore, the quality of the device is unmatched and it is one the most durable units in its category.
So, if you're looking for a cheap, stylish and highly functional GPS unit, then the Neo+ just might be the golf GPS for you.